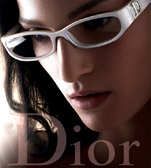 We offer a large selection of high quality designer frames for men, women, and children, where you will be sure to find the right style and perfect comfort. From clear daily wear glasses, stylish glasses for special occasions, computer or reading glasses, protective eyewear for work or sports, we will have the frame for you. We also have many different sunglass styles for you to choose from.

Frames - We carry the following frame Lines:


Ray Ban

Salvatore Ferragamo
Christian Dior
Oakley

Tiffany

Calvin Klein
FYSH
Nike and Flexon

BCBG

Lacoste

Silhouette
Wiley X
Dragon
Kate Spade
Nine West
Hugo Boss

Many others
We provide free lifetime frame adjustments and nosepad/ screw replacements.
Lenses - We only use high quality materials and products to ensure you will have the best visual correction
Lens Material: Selection of different lens materials to reduce lens thickness and weight (polycarbonate safety material and various high index plastics)

Lens Treatments: Choice of premium anti-reflective coat to reduce glare, especially important in improving night vision and reducing eyestrain for computer users.
Lens Coatings: Choice of a durable anti-scratch coating to reduce scratches that can occur from daily use
Lens Designs: Choice of different designs for the correction of near reading from lined bifocal to the new no-line progressive lenses
Sunglasses Options: Choice of polarized lenses to provide the best protection from the harmful UV rays and the most glare reduction outdoors, large array of tinting processes and colors, and photochromatic lenses (Transitions) that darken the lens outdoors and clears up the lenses indoors for multifunctional uses.
Depending on your insurance, we may be able to utilize an in-house lab for the production of glasses to provide you with a quick turn-a-round time.

Got Contacts?
We offer virtually any contact lens available on the market. To get the best pricing, take advantage of a one year supply of contacts in which you will receive a price break per box as well as a rebate. For your convenience, one year supply of contacts are mailed directly to your home without any additional charge.